How - Barnet Bugle might ask - does non-faith fit into multi-faith? Isn't it perfectly sensible to appeal only to faith-based groups in order to promote interfaith cohesion?
Chief Executive of London Borough of Barnet, Andrew Tavers tweeted this Hallmark-worthy pic of Barnet's gleeful Multi-Faith Forum today, with the agenda: "to promote community cohesion". Alerted by
Mr Mustard
(one of Barnet's finest bloggers) to the lack of any Humanist or nonreligious representative, I thought their claim to 'cement cohesion' might be at best a weak one.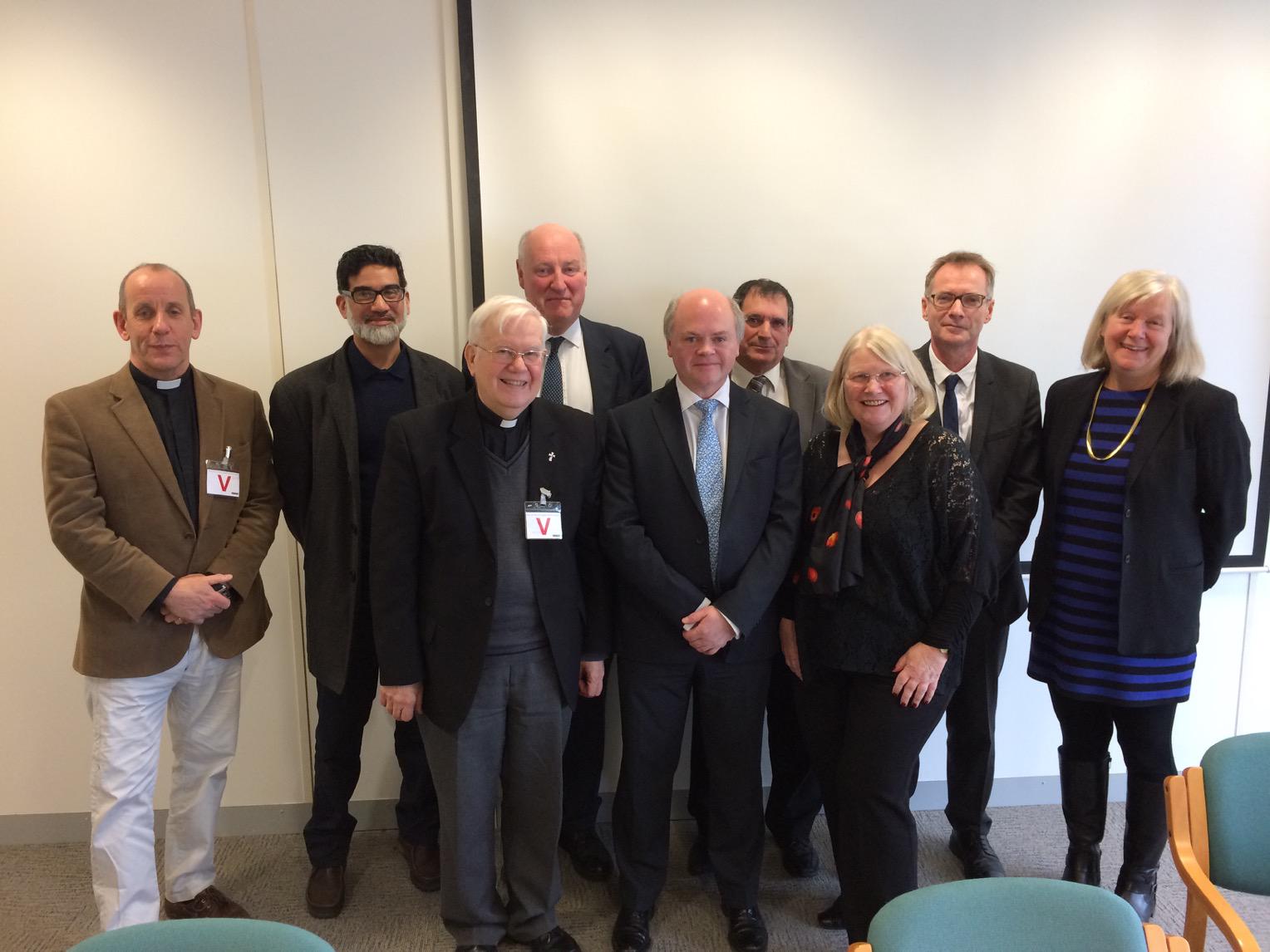 In its Elizabethan heyday (the first), Barnet may not have needed Humanists to cement its communities - a good look around Barnet Museum will show how that was done. But today's Britain is predominantly nonreligious, and the Multi-Faith forum is clearly used as a platform for Barnet council to express the electorate's views on matters of ethics, faith and morality. This recent
piece from the Hendon Times
records the group's message of peace: a message few would take issue with. I certainly don't.
"Freedom of speech, freedom of expression and the freedom to worship as and where we wish are integral parts of a democratic society."
Fair and square - this message echoes the statements made on the
British Humanist Association's website
on the same issues. Freedom of speech is absolutely the heart of the Charlie Hebdo shootings, and is rightly to be defended by faith groups as well as everyone else.
So what is my objection?
I have three pretty strong ones, actually: social responsibility, history and political relevance.
In a predominantly secular Britain, why assume that unbelievers don't have a responsibility to be involves in matters of faith? Is nonbelief not a valid stance in matters of faith? The vociferous Faith Schools Campaign as well as the Trojan Horse scandal in Birmingham are two instances of the British Humanist Association proving this matter beyond doubt: atheists, secularists and other nonbelievers have a lot to contribute to questions traditionally handed over to the faithful. Those of us who don't believe in God can and must express strong support for equality and speak out against abuses of religious authority in our communities. If religions are not kept in check, inequalities happen. Not through ill-intent, mind you. This is plain and simple democratic practice: checks and balances are needed.
Which brings me to the second problem: history. Freedom of speech has been curtailed throughout Britain's history predominantly by the unchecked combination of faith and power, There should be no need to remind anyone of the great British history of secularists and Humanists from Thomas Paine through Percy Bysshe Shelley to Salman Rushdie who were persecuted for expressing nonreligious views - either political or in fiction. Freedom of speech is a freedom largely hard-won by secularists of a humanist bent. Anybody with a history book can see the irony of keeping humanists out of the party in the name of free speech.
This is not to say nonbelievers have some sort of moral highground over faith groups. Last week's Chapel Hill shooting in the USA is a stark reminder that there are atheist psychotics as well as religious ones. But last year's Yougov census showed that well over half the UK population is nonreligious, and this trend is on the rise. Among the 18-24 age bracket, nonbelief goes up to 77%. But crucially, volunteering and charity work are also on the rise, and most young people agree that religion is not needed for such ethical activities. Humanism is the preferred vehicle for the nonreligious to express ethical views and investigate faith-claims. Again, where's our party invitation?
So in response to Barnet Bugle, the question should be flipped. Why isn't Barnet's Multi-Faith Forum engaging its biggest and most relevant political base?