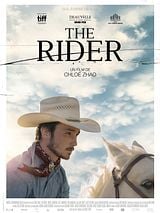 "I don't know how to feel about this, whether to love it or hate it. I just don't know". And in one breath, a petite, gleeful Dutch lady smashes the quiet discomfort of a room full of viewers, mulling over the contradictions of the film. Chloe Zhao's The Rider is a semi-documentary-part-fiction, favourite of 2017 Cannes film festival, and swept up awards in Deauville, Toronto and more. The hubbub begins as the Carpentras anglophiles sit around a cluster of café-parisien-style tables on which glasses of Cotes-du-rhône red wine, bowls of snacks and steaming slices of (homemade) pizza are magically appearing, like a tiny, stylish Hogwarts school of arthouse cinema wizardry.
"But the photography..."
"And that actor, playing himself! How did he even..."
"Well, the director got a standing ovation. She's Chinese."
"Remind me, Laura, I need to give you a book"


"Did he play himself?"




"The horses... How do you say 'dresseur'?"





Like a group therapy session only with wine, snacks and a film for your 10 euros, the Rivoli cinema has been running English language post-movie discussion sessions for three years. The erstwhile closeted victims of the "You'd-better-get every-word-perfectly-right-or-

shut-up!" variety of English language instruction (still endemic in French schools) slowly start to overcome their inhibitions, and rekindle their lost love with the English language through arthouse cinema. All under the watchful, twinkling eyes of Emilie, cinema manager, and Laura Kelly, English language teacher. Their gently persistent coaxing and unwavering love affair with the lesser known gems of the international independent silver screen have attracted a core of diehard film-grub-and-chat aficionados willing to come out in all weathers.






North Dakotan dialect and ride culture barriers notwithstanding, the therapy session continues.





As I listen to Michel, Emilie, Christine and Alice grapple with the nuances of North Dakota dialect and rodeo culture, I work through the contradictory feelings this film has brewed in me. Like them, I just don't know whether to love or hate Brady. His brutal insistence on performing in rodeos in a beer, testosterone, country-and-western Trumpland of God'n'guns, where the opening scene shows him gruesomely pick staples out of the debilitating skull-wound inflicted by a bucking rodeo horse. Do I also hate Zhao for living with and glorifying this meathead and his "bros" for their oneupmanship and bravado, lending her evident cinematic genius with stunning shots of the black hills of Dakota as the backdrop to this machismofest? I decide I do and venture into the discussion.





"But don't forget Brady and his friends, they are Native Americans," chimes Emilie, not helping my brain. It was hard enough wrapping my thoughts around this movie without her damned nuance. "...and the film was made by a Chinese director." She shoots me a sideward glance; she's too polite to contradict me directly but implies: this movie is not Trump.





Blast her with her research and understanding of pretty much every film, actor and director presented at indie festivals. Now I can't just comfortably dislike Brady with my anti-Trumpian politics, which were surely more valuable than her actual knowledge.





Darn it.





"And Brady's horse training is real", she adds. "He is 22 and has a kid, you can see him interviewed on our website."





So much for my moral outrage.





True enough, the scenes of trailer park braggadoccio in cowboy hats are interspersed with unscripted tender snapshots of Brady's horse training genius. The film was - on Emilie's authority - shot mostly in the early morning, as Brady had to get on with his actual horse training work for much of the rest of the day. This is when he's not too busy visiting Lane, his fellow rodeo star now confined to a wheelchair with brain damage, grinning as Brady shows him video clips of his finest moments. While the story of Brady's own accident, recovery and subsequent agonizing over a lost rodeo career was narrated and acted post-hoc, documentary scenes of horse training and hospital visits were filmed in real time and spliced in.





Mind blown.





Glasses clink. Accents roll. Michel. Carpentras folks wax lyrical in a language not their own, and grapple with Guardian film reviews with a verve no Barnet resident ever has in French.





Images of Brexit talks flit past my bruised subconscious. Carpentras residents voted en masse for the far right Front National party last year, and here is the resistance. A tiny enclave of internationalism and openness set on prying open local culture through language learning and film.





Will Brexit cause a similar renaissance of French, Spanish and German conversation clubs in UK cinemas, in response to UKIP? "Parlons Sunderland"? Beer and Bratwurst blather auf Bradford?





Somehow I can't picture it.





The cinema empties. Wine glasses vanish and discussion group dates are agreed for the month of May. Farewells are kissed onto cheeks and the group slink off to their bedtime routines under a cloudy Carpentras sky.





Emilie reemerges.



"Attends Laura! I have a book for you." It's an obscure New York based novel, Lying on the Couch by Irvin Yalom. "You will love it. It's about psychoanalysis but funny..." and she goes on to sum up the plot of the intricacies of the plot, how the English version is funnier than the French translation (which she has of course also read).
"Can I borrow it?" I ask Laura on the way out.
After this evening I'm going to need to borrow it.
-----------------
You can join the Let's Talk group and find cinema timings, reviews, blogs and more here.
http://www.cine-vaucluse.com/